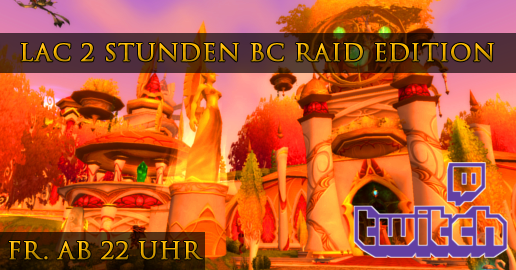 Hello out there! It is time (again)! Upcoming Friday I will host a 2 hour Loot Appraiser Challenge on my twitch channel www.twitch.tv/goldgoblinnet.
Our destinations are  "The Burning Crusade" raids.  What can they offer us in terms of recipes or transmog gear? Lets find out!
Time: 
Loot Appraiser Challenge Friday (2nd February 2018) 22:30 CET until 00:30 CET
I want more details!
Raids:
It is up to you which raid you are going for or what trash you are farming. If you want to, you can go for Sunwell Plateau's trash 9 times in the first hour and then switch over to the Black Temple. But be careful! Once you killed a boss, you are not able to reset trash anymore!
Prices:
Prices are for rank 1 to rank 3. Rank 1 can choose first what item he wants to receive. Random pets and my channel currency (goldcoins) will be raffled amongst other participants.
What are we hoping to find throughout this challenge?
Burning Crusade raids are known for expensive recipes and epic weapons. Here are some of them:
I would be thrilled to see a lot of "farmers" participating and helping to find a lot of special items!