What is this App able to do and why do I need it?
With the TSM Desktop App we don't have to scan the auction house ourselves. The App collects data from all realms on EU and US regions and provides it to us. An update of that data is made once every 30 minutes.
Global database is interesting for players that are trading transmog items since it provides the average value across all servers.
I recommend installing this tool.
To download it you have to register an account at https://www.tradeskillmaster.com/. TSM and the desktop app are free to use. You need thet account to log in later in the process. As soon as you have created your account visit the following site: https://www.tradeskillmaster.com/realms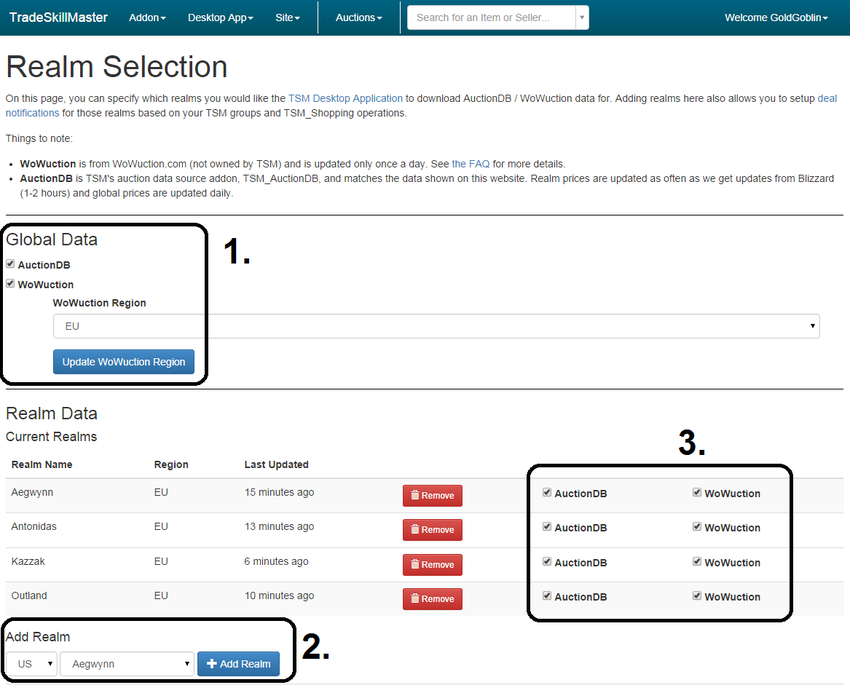 1.)  You have to check AuctionDB und WoWuction to get global data.
2.)  "Add Realm" – add your realm! Select your region.
3.) For every realm you have to check AuctionDB and WoWuction aswell.
If the site is set up, start the Desktop App and log in.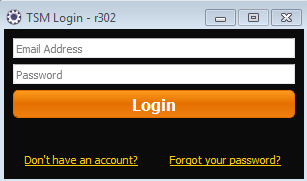 After logging in there is a settings button in the upper right corner.
1.) General
+ WoW Directory:  Choose the folder your WoW is installed. In my case its
                                   C:/Program Files (x86)/World of Warcraft
+ The button "Setup Realms" takes you back to the TSM website where you can add more realms.
2.) Notifications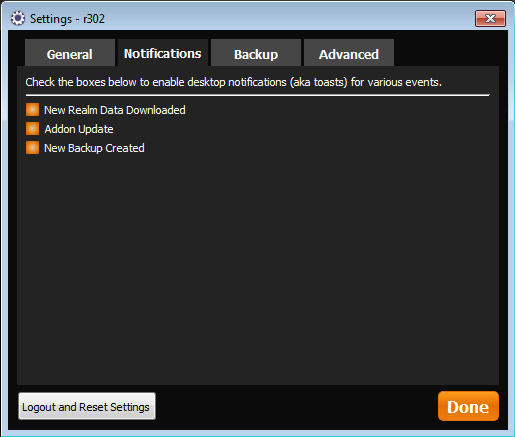 This tab sends you notifcations of updates if you want to get them. If you track many realms i recommend you turn it off.
3.) Backup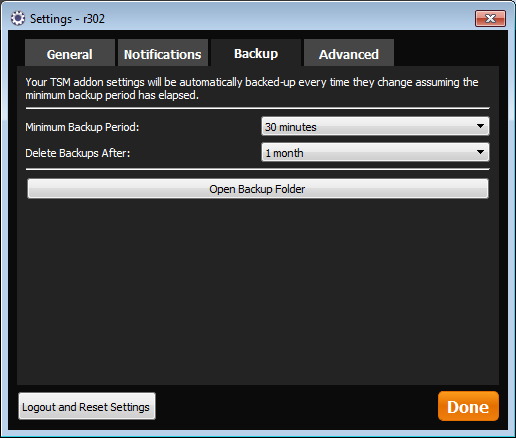 You can change the settings for a backup here. Nothing's more devestating than loosing your profile after hours of work.
4.) RealmData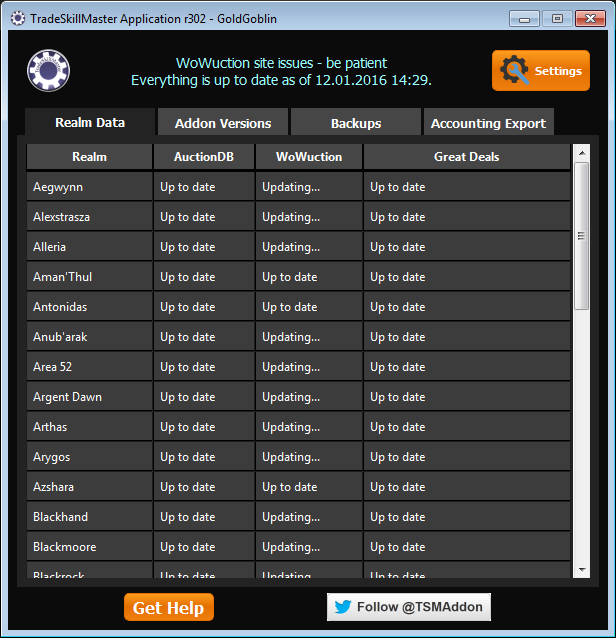 The App now shows you all Realms and their price sources that you set up on the website. As you can see in the image above it may take an update from WoWuction a little longer.
Great Deals:
Thats a module only Premium Users can see. Great Deals shows you items ingame that are posted cheap on the auction house.
5.) Addon Versions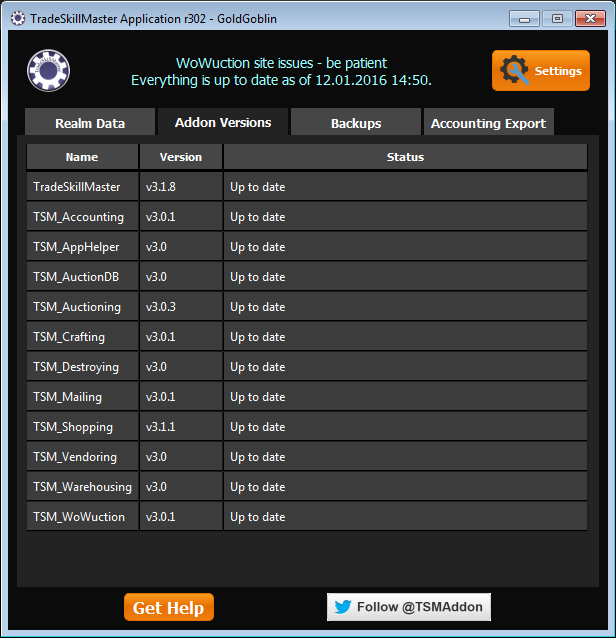 Here you can see if your AddOn is up do date. Premium Members' TSM updates automatically.
6.) Backups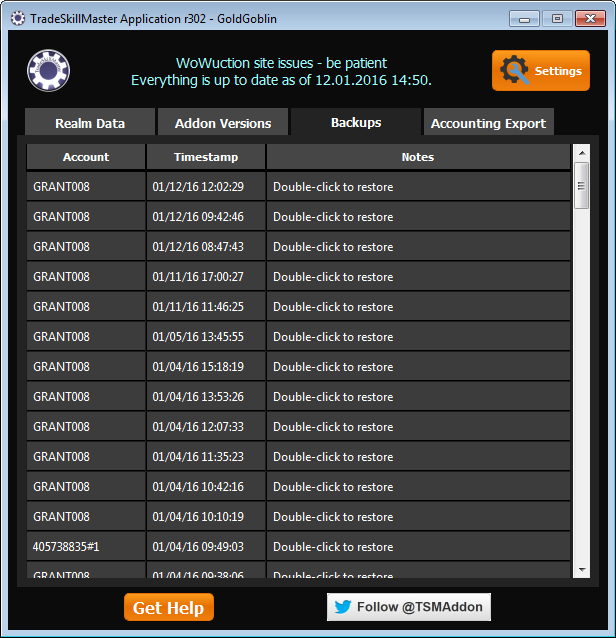 If you set up a backup interval you can restore it by pressing "Double-click to restore".
7.) Accounting Export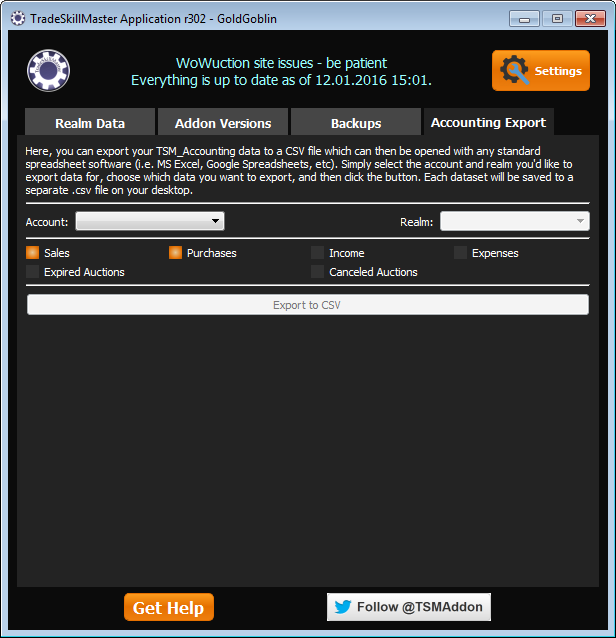 This menu is for people who want to see their statistics and use them further. I dont see any use in this for the average wow player.