TSM – AuctionDB
This module is the heart of TSM since it provides all data and prices for purchases, sales and crafting. AuctionDB is our global database.
With this module you can see ingame how much an item's worth.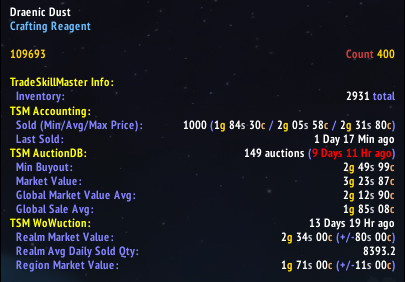 In the picture above you can see the data that AuctionDB provides. But let me break it down for you.
Min Buyout: The cheapest ore on my auction house costs 1g26s00c
Market Value: Thats a price average from the last 14 days of your server. You can get a more detailed explanation HERE.
Historical Price: Average price from the last 60 days of your server
Global Min Buyout Avg:  Thats the  global (EU and US) average minimum buyout price.
Global Market Value Avg: Average market value after adding up all WoW servers
Global Historical Price:  Difference between this and Historical price is that this one includes all realms
Global Sale Average: Shows us the average price at which an item was sold on all WoW servers
You have to set up the following so that these prices get shown:
/tsm –> (1) Tooltip Options –> (2) AuctionDB  
Here you choose which source you want to use.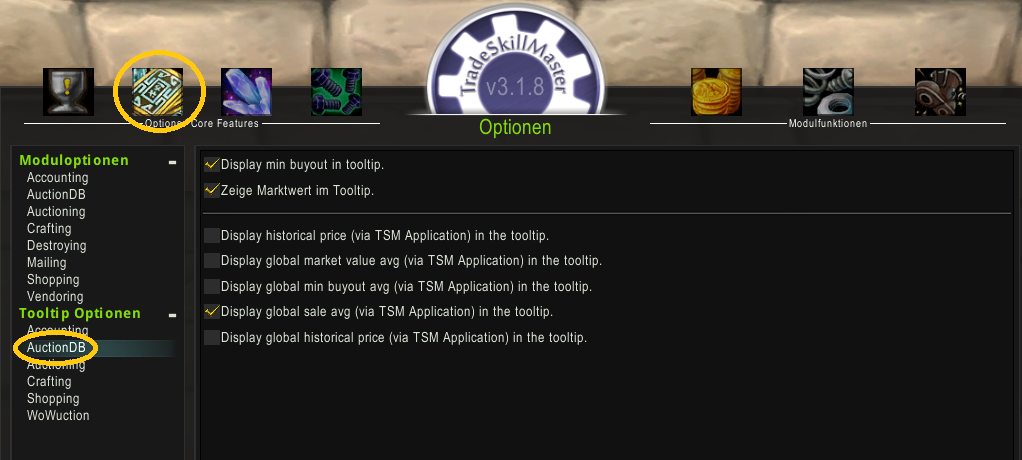 Interface at the auction house
If you have "Show AuctionDB AH Tab" active you can scan the following:
GetAll-Scan:  quick scan of your auction house
Start complete Scan: Each item will get scanned (takes some time..)
Scan selected Groups:  Here you can scan your set groups
With the TSM App (Guide) you don't have to fully scan anymore.