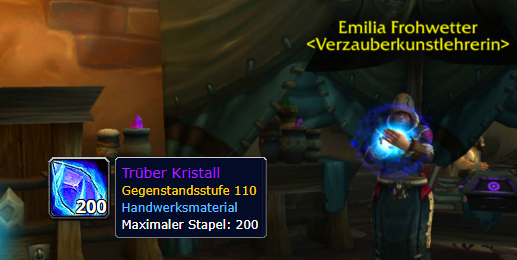 Viele von uns haben einen Charakter mit einem Farm Beruf wie Bergbau, Kräuterkunde, Kürschnerei bzw. kombiniert. Nun ist es so, dass uns Battle for Azeroth mit den Kriegsfronten, Welt-Quests usw.  ja regelrecht mit Rüstungsteilen der Qualität (Selten und Episch) überschwemmt. Da diese alle an uns gebunden sind, könne wir sie nicht einfach an einen Charakter zum entzaubern senden.
Den Beruf Schmiedekunst, Schneider usw. zu verlernen nur damit man eben Verzauberungskunst skillt wäre sinnlos, da ihr alle Rezepte eures alten Berufes verliert.
Für die Berufe Bergbau, Kräuterkunde und Kürschner gilt dies jedoch nicht! Wie in Legion könnt ihr euren "Farm-Beruf" verlernen und mit Hilfe eines Buches alle Ränge wieder zurück holen.
Dieses Buch kostet 1.000 Gold und wird von eurem Berufe Lehrer für Bergbau, Kräuterkunde sowie Kürschner verkauft. Sobald ihr euren Farm Beruf erlernt habt, nutzt ihr dieses Buch und bekommt alle BFA Ränge zurück. Eure Skill-Punkte sind wieder auf  1 jedoch benötigt ihr in BFA keine Skill-Punkte sofern ihr alle Rezepte schon besitzt.
WICHTIG: Ihr bekommt nur die BFA Ränge zurück! Solltet ihr Classic Bergbau auf 300 gehabt haben ist dies alles gelöscht!
Warum komme ich zu diesem Thema?
Für ein epische Waffe/Rüstung bekommt ihr zu 100% einen Trüben Kristall bzw mit Glück noch Umbralsplitter und Düsterstaub. Für seltene Rüstungen/Waffen  1-2 Umbralsplitter + Düsterstaub.
Je nach Server wird der Trübe Kristall von 500-1.500 Gold gehandelt sowie der Umbralsplitter 100-400 Gold. Würde ihr eure epische Rüstung beim Händler verkaufen bekommt ihr 50-60 Gold.
Es macht natürlich keinen Sinn für 2-3 Rüstungen euren Farm Beruf zu verlernen auf VZ zu gehen und die Items zu entzaubern. Ich mache das meistens so, dass ich meine Bank mit diesen Rüstungen fülle und alle 2-3 Wochen entzaubere.[:en]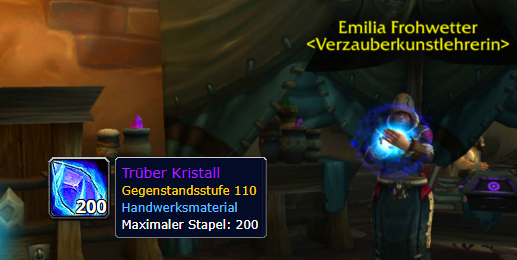 A lot of us have characters with farming professions like Mining, Skinning or Herbalism (or even two of them combined). And it's no secret that War Fronts and World Quests in Battle for Azeroth are flooding our bags with rare and epic items. Since they are bound on pick up we can't send them to another toon to disenchant them.
To unlearn a profession like Blackmithing or Tailoring to skill Enchanting would be pretty useless because you will lose all the recipes of your old profession.
But when it comes to farming professions, thats not the case. Just like in Legion you can unlearn your farming profession, learn it again at some point and get back all of your gathering ranks from one of those books:
These books cost 1.000 Gold each and are sold from your BfA gathering profession trainer. As soon as you re-learned your farming profession, use this book and you will get back all of your lost Battle for Azeroth gathering ranks. Your gathering skill remains reset at 1, but you don't have to care about that since you have your ranks back – thats literally all that matters.
IMPORTANT: All Mining Skills will be at 1 if you unlearned Mining and if you want to farm in Classic or Pandaria, you have to skill these parts of the profession again just like in Battle for Azeroth – but without perks from ranks, since they are none.
How is this a thing here?
If you disenchant an epic weapon or armor, you will receive a Trüben Kristall with a 100% chance, and if you're lucky you can also get additional Umbralsplitter and Düsterstaub. For rare items you will get 1-2 Umbralsplitter + Düsterstaub.
Depending on your server, a Trübe Kristall is sold for 500-1.500 Gold and the Umbralsplitter for around 100-400 Gold. If you sell your epics to a vendor he gives you 50-60 Gold.
Of course theres no point in ditching your farming profession for two or three items to learn Enchanting, but you can store your items on your bank – that's how I do it. And every 2-3 weeks I disenchant them all and sell the enchanting materials. Maybe that's an option for you, too?