Letzte Aktualisierung: Dienstag, 29. September 2020
Hier gehts um
Wilddornrose
aus Classic WoW. Nicht der Farmguide den du wolltest? Vielleicht wirst du
HIER
fündig.
In diesem Farm-Guide erfährst du einige der besten und effizientesten Routen, um Wilddornrose zu farmen.
Wenn du bisher noch nicht gekräutert hast und wissen möchtest, wie du Kräuterkunde im ursprünglichen World of Warcraft (Vanilla) am schnellsten leveln kannst, wirf doch einen Blick auf unseren Classic Kräuterkunde Leveling-Guide!
Dieser Guide ist kein World of Warcraft Classic-Guide!
Classic-Guides gibt es auf
classic.goldgoblin.net
- schau doch da mal vorbei!
Maguskönigskraut und Wilddornrosen
Dieser Guide ist für alle, die Maguskönigskraut und Wilddornrose lieber selbst farmen, anstatt sie (teuer) im Auktionshaus zu kaufen.<
Vorgebirge des Hügellands (Horde)
Das Vorgebirge des Hügellands ist der beste Ort um diese beiden Kräuter zu farmen. Oben auf dem Berg findet man ausserdem gefrorene Kräuter, welche Königsblut, Golddorn oder Beulengras enthalten können.
Dunkelküste
Dunkelküste steht dem Vorgebirge in wenig nach. Wenn du aber ein Allianz-Spieler bist und Schwierigkeiten hast ins Horde-Gebiet zu kommen bietet sich Dunkelküste an.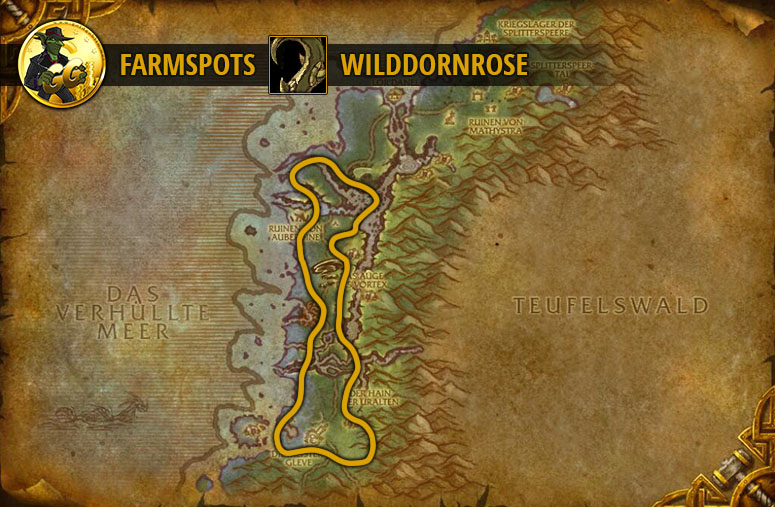 ---
Ich hoffe dieser Guide hat euch weitergeholfen!
Fehler oder Verbesserungsvorschläge dürfen gerne im GoldGoblin Discord gemeldet werden.