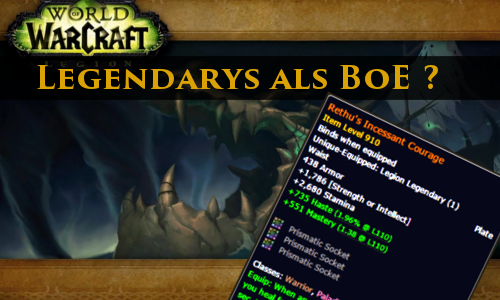 Jeden Tag erhalten wir neue Infos bezüglich Patch 7.2 und der Möglichkeit mit den Berufen Schmiedekunst, Schneider und Lederverarbeitung Neue Legendäre Items zu produzieren.
Das wohl entscheidenste für uns ist die Tatsache, dass die Neuen Legendären Items nach wie vor als "Wird beim Anlegen gebunden" in der Datenbank stehen.
Zusätzlich kommt noch der Punkt, dass diese Items ab Level 101 tragbar sind. Spätestens jetzt sollten bei allen die Alarmglocken läuten. Aktuell verkaufen sich Level 101 BoE Items auf Stufe 850-870 für bis zu 200.000 Gold.  Ab 7.2 können alle Power Level 101 Twinks sich also ein 910er Item kaufen!
Ich denke jedoch, dass sich der Preis in Grenzen halten wird da jeder versuchen wird diese Items zu produzieren und verkaufen.
Von welchen Items sprechen wir:
Die Nethershard Essence erhalten wir bei einem Händler für 8000 Nethersplitter welche wir während der Invasionen auf den Verheerten Inseln farmen können. Die anderen Legendären Materialien erhalten wir im Laufe einer Questreihe welche uns in die verschiedenste Dungeons und Raids führt.
Die Questreihe für alle Berufe beginnt mit dieser Quest: Fashion History and Philosophy of Style
Sollten diese Items nach wie vor  BoE bleiben, könnte der Level 101er  Markt definitiv boomen.
[:en]
Every day we receive new infos about Patch 7.2 and the possibility to craft legendary Items with Blacksmithing, Tailoring and Leatherworking.
The most important fact is, that  these Items are still "Bind on equip"  and require only Level 101! At least now your alarm bells should ring! At the moment we are selling Level 101 gear with 850-870 ilvl  for about 100-200k  gold.
With this patch we are able to sell ilvl 910 gear! Only problem is that everyone is going to craft them and prices will fall.
We are able to get Nethershard Essence from a vendor for 8000 Nethershards. We have to farm these shards during invasions on the broken isles.  For legendary materials like Bolt of Shadowcloth we have to do a view dungeons and raids.
Your profession quest chain starts with: Fashion History and Philosophy of Style
If these legendary Items are still BoE on Release of Patch 7.2 there should be good market for 101 twinks!