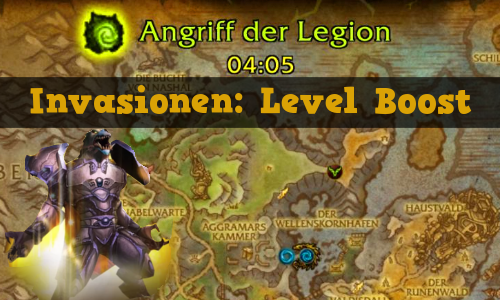 Während bestimmten Events ermöglicht uns Blizzard ob gewollt oder auch ungewollt immer wieder Möglichkeiten unsere Charaktere schneller zu leveln. Eine der beliebtesten Varianten ist Gerade der Angriff der Legion auf den Verheerten Inseln.
Alle 12 Stunden und 30 Minuten startet eine Invasion und endet nach 6 Stunden wieder. In dieser Zeit gilt es die Weltquests welche mit dem Angriff zu tun haben zu erledigen. Normalerweise sind Weltquests ja nur für Level 110 Spieler aber während einer Invasion könnt ihr z.B auch mit einem Level 101 Charakter die Angriffs Weltquests erledigen.
Pro Invasion kommt ihr auf ca 70-80% Erfahrungspunkte  eines Levels! Wenn ihr schon fliegen könnt, ist dies einen Sache von Minuten.
Wer wissen möchte zu welcher Zeit die Invasionen aktiv sind, dem kann ich diese Seite hier empfehlen: https://wow.gameinfo.io/invasions[:en]
While certain events it is possible to level your Charakter faster. One of them are the New Legion Invasions on the Broken Isles.
There are Invasions every 12 hours 30 minutes for 6 hours. When an invasion comes up, you can do all of the invasion world quests that pop up for that zone. Normaly you have to be Level 110 for Worldquest but here you are able to finish them with Charakters < 110.
You get around 70-80% of a level per invasion! With flying this will be done in minutes!
If you want to know when the next Invasion is UP i recommend this side: